MyPokerBasics Staff Votes On Most Attractive Female Poker Pro
At MyPokerBasics.com, some days are definitely worse than others. When the idea of preparing a cover story about the most attractive female poker player in the world was first kicked around inside our office last month, every single hand in the room shot up before our boss man was even finished speaking. Since I had seniority, I knew it would be my story to cover; but that darn intern Kevin somehow weaseled his way into the conversation. The next thing I know, I'm told to pack my bags and drive over to Atlantic City to interview a retired grandmother of six who hit an online bingo jackpot for $498,000; all the while Kevin was sent off to talk to some of the hottest poker celebrities on the planet. It was definitely not a good day.
Then a miracle happened; our dear intern Kevin somehow contracted the flu and couldn't make the deadline. Now, you may read on some of our blogs that my Aunt Edna had the same virus strain and I intentionally brought Kevin over there for Sunday brunch last week…but don't you believe a word of it. It's all coincidence, I tell you; how was I to know that my Aunt Edna would think Kevin was that popular nerdy actor from The Big Bang Theory? It's not like I told her to keep hugging him or anything…
Back to the task at hand, you probably want to hear a little bit about the most attractive female poker players in the world and who our finalists are. Without further pause, we've counted all of your votes and here are your top three finalists-
The Three Finalists ….
@ Joanna Krupa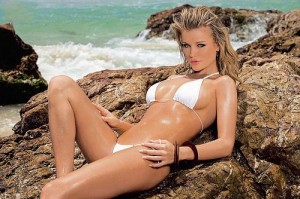 Age- 30
Birthplace-Warsaw, Poland
You may have come across photographs of Joanna in Maxim, Playboy, or dozens of other men's magazines; but here's a small tidbit of information you probably didn't know- While doing a photo shoot for Donald Trump's magazine, this little hottie was invited to sit in on a celebrity poker tournament at the Trump Towers. Before all was said and done, Krupa found herself the last one seated at the final table and the winner of $1 million in charity money.
Since her first big win, Joanna played extensively online to sharpen her game even further. Her first WSOP event ended late in the second round well inside of the payout brackets, and she intends to play in more tournaments in the future whenever her busy schedule allows. Since she has recently been named the sexiest woman alive by Maxim magazine, we're definitely glad that you guys overlooked her slim poker credentials and voted her in.
@ Shannon Elizabeth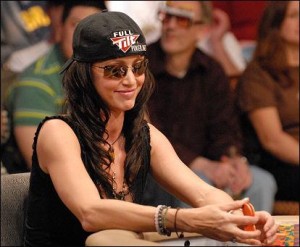 Age- 37
Birthplace- Houston, Texas
Who is Shannon Elizabeth, you ask? We bet that you can guess that answer with only two clues- (1) Think about the movie American Pie (2) Now remember the sexy bedroom scene that Jim accidentally broadcasted to everybody at school. Oh yeah, that Shannon Elizabeth! Who knew she played poker and was any good? Well duh, we did of course, and evidentially so did many of you since she fell just shy in overall votes from taking the MyPokerBasics title.
Do not let her looks fool you though; to date Shannon has raked in over $200,000 as a professional poker player on various tours. That's not counting the numerous pots she's taken down in private house games with pros like Antonio Esfandiari Joe Sebok, and Phil Laak. In a recent interview, Elizabeth admitted, "I'm in Vegas two or three times a month these days, playing every other night sometimes. Poker has become my second career."
@ Tina Wallman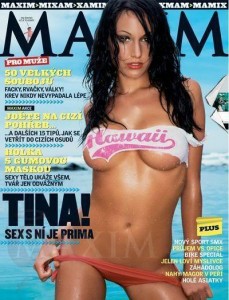 Age- 30
Birthplace- Sydney, Australia
Although Tina Wallman has never actually played in a professional poker tournament, she is a paid spokesperson for Carbon Poker and plays regularly on their website. While we personally did not feel like that was enough to include her on the list of the most attractive female poker players in the world, your votes made us stand up and take notice that she was a serious competitor for the top ranking.
This Australian-born goddess may not have anything on Annie Duke when it comes to check-raising or bluffing the on the turn, but her featured Maxim layout is pretty good evidence that we'd let her win just about any pot she wanted. In fact, the voting was so lopsided in her favor that it's plainly obvious all of you guys feel the exact same way.
The Most Attractive Female Poker Player in the World- Tina Wallman
Maybe it was Tina's massive following on MySpace that pushed her over the top, or it could have been one of her truly unforgettable quotes like, "I enjoy rubbing sun screen on my girlfriends when we go to the beach. It stirs up a lot of attention from the guys. I love to rub sun screen on their back and their bum." Whatever the reasoning, you guys picked this sexy young Australian by almost 3 to 1 when all of the votes were counted.
Other Noteworthy Attractive Females Poker Players that Received Votes- Kimberley Lansing, Erin Ness, Chantel Mcnulty, Jennifer Leigh, Erica Schoenberg, Liz Lieu, and Veronika Larsen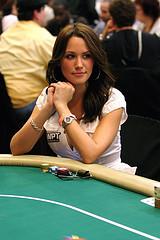 If your number one babe on the various poker tours did not make it on our list, then be sure to drop us a line and tell us about it for future rankings. While our number one goal here at MyPokerBasics is to always find ways for you to improve your overall table strategy, I can honestly say on behalf of the entire staff that it is our pleasure to review your submissions.
Related Entries